So we've all heard it by now, "Sitting is the new smoking." Obviously, the idea is the more you sit, the more you're endangering your health. The rise of stand-up desks has been phenomenal.
The science behind "sitting is the new smoking" is up for debate, but we see a noticeable trend of people standing at their work computer all day.
This begs a question: Isn't all that standing going to cause pain and discomfort in your feet, muscles, and joints?
We think so. But before we go down that path, let's take a look at what the experts are saying about sitting.
Subscribe to Spark Insoles News & Discounts:
Articles by the Mayo Clinic tell us that people who sit for 8 hours or longer every day have a risk of dying equal to mortality rates seen in the obese and in smokers (hence, sitting is the new smoking).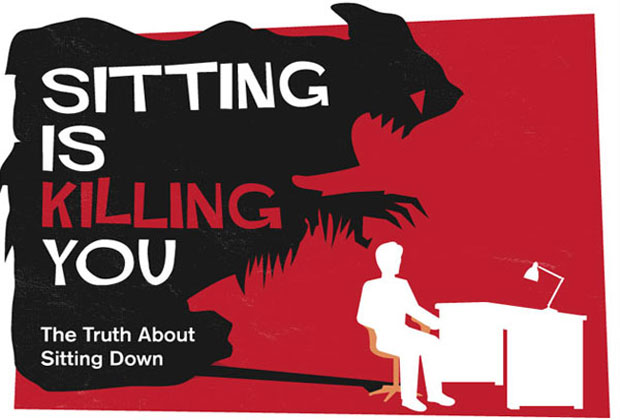 According to an infographic on DIYGenius.com, sitting shuts off electrical activity in the legs (we at Spark hate to hear that!), people with sitting jobs are twice as likely to develop cardiovascular disease than people with standing jobs, and enzymes that break down fat drop by 90%.
So one obvious remedy is to stand more; much, much more. And all your problems associated with sitting will go away. Well, maybe that's overstating things a bit, but standing more will certainly help.
But back to our original question: Isn't all that standing going to cause pain and discomfort in your feet, muscles, and joints?
WebMD explains that studies show standing for more than 5 hours per day contributes to lower-limb muscle fatigue, which in turn raises the risk for low back pain and musculoskeletal problems. A different study published by NIH shows standing at work for a long time leads to adverse health outcomes.
But that NIH study does recommend the use of shoe inserts to help alleviate some of that pain and some of those prolonged health issues.
That's where Spark insoles come in. Our Work insoles help you stay comfortable and pain-free at work. Because they're a little shorter than our full length insoles, the Work insoles are perfect for your professional work shoes.
So take charge of your pain. Get up out of that chair, get yourself a standing desk, put a pair of Spark insoles in those shoes, and ignite yourself into a promotion!